A Parent Guide
International best practice Type 1 Diabetes care in Australian schools

T1D Learning Centre - A Parent guide1.79 MB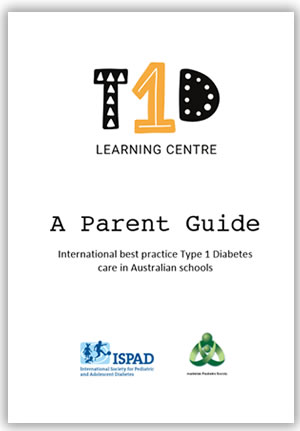 This document is produced and endorsed by the Australian Paediatric Society to assist parents understand how they may access best practice Type 1 Diabetes management for their child at school. The clinical guidance is based on International Society of Pediatric and Adolescent Diabetes (ISPAD) standards and is consistent with the ISPAD principles of best practice clinical governance, advocacy, education and science.
Winner - 2019 ISPAD Prize for Diabetes Innovation
Copyright © 2019 T1D Learning Centre. All rights reserved.
Australian children and families living with Type 1 Diabetes are indebted to ISPAD for their advocacy and determination to achieve the best outcomes for children and adolescents with diabetes at school. The T1D Learning Centre is an initiative of the Australian Paediatric Society and is endorsed by ISPAD. This parent guide was funded by a grant from the Geelong Community Foundation and supported by the Type 1 Foundation to provide access to best practice international standard (ISPAD) management of Diabetes at School.
ABN 12627196249

ACNC Registered Charity and Deductible Gift Recipient
Type 1 Diabetes Learning Centre Limited
https://www.acnc.gov.au/charity/87bec419e5754c497c78242ed612bc8d
References
ISPAD 2018 Clinical Consensus Guidelines on Management and Support of children and adolescents with Type 1 Diabetes in Schools https://www.ispad.org/general/custom.asp?page=ISPADGuidelines2018 ISPAD 2018 Position Statement on Type 1 Diabetes in Schools https://www.ispad.org/news/420540/ISPAD
Disclaimer
The information in this guide is general. It is based upon documents, position statements and information on public record. It does not constitute, and should be not relied on as, legal advice.